Amazon Marketing Tools for Sellers
Game-changing strategies to promote
brand awareness and customer
engagement.
Start your FREE account
Adtomic
Improve your PPC with our Amazon advertising platform.
Learn More
Portals
Build a compelling product landing page for your brand.
Learn More
Can you imagine sculpting the most beautiful statue known to mankind, only for no one to ever see or appreciate it? Your masterpiece, your magnum opus… undiscovered and ignored in your garden. Is there anything worse?
Yes. Finding out you were never supposed to be building a statue in the first place. We'll explain.
You have found the perfect product to sell on Amazon. You have found a killer deal with a trustworthy manufacturer overseas. You have leveraged Amazon keyword research tools to create a product keyword list you've checked so many times it would make Santa Claus swoon in his jolly suspenders. With Amazon listing optimization tools, you have crafted an immaculate Amazon listing, with eye-grabbing imagery and a second-to-none product description.
Your product has launched. You have sculpted your marvelous statue.
Well, statues (as marvelous as they are) don't go anywhere.
The Amazon ecosystem is the most competitive space for e-commerce sellers on the internet.
You can stare at Seller Central all day counting sales metrics but ultimately, the most treasured currency on Amazon is a bit more… biological than many would think: eyeballs.
If you are not getting your product in front of eyeballs, you cannot truly grow your brand. Likewise, if you are not growing, you won't be reaching those eyeballs anytime soon.
That's why we want to change your perspective. Instead of sculpting a statue, we want you to grow your garden. Much like a garden, your Amazon marketing strategy should reflect the following traits:
Ever-changing
Full of growth potential
Leaves room for new directions
Self-supportive
Cohesive
Textured with layers that appeal to many different people
Vibrant enough to reflect the personality of the planter but grounded enough to make you forget it was planted in the first place
So, Where Should You Start?
At Helium 10, we're in the business of making things easy. (Fortunately for you, business is good!) With that in mind, let's focus on the two primary sources for virtually all Amazon marketing strategies.
Outside (off-Amazon) Traffic
Amazon sponsored ads (also known as PPC or "pay per click")
You do not magically appear on page one of Amazon search results, however, a fundamental understanding of these two strategies will give you the closest thing to "magic" that Amazon has to offer: a shot at your own, continually profitable brand.
Visiting the World Outside of Amazon: Capturing External Traffic
Now, traditional logic says you "own" any customer that purchases from you. You can market to them, send them promotional offers, and generally communicate with them as you see fit. They bought your product, therefore they are "your customer," right?
Twenty years ago, yes. However, this is not the case on Amazon today.
If you sell a product to a customer on the Amazon platform, Amazon still "owns" that customer.
Unless the purchase is a "fulfilled by merchant" order that you ship out, Amazon will not even show you the address (physical or email) of your customer. You are also completely forbidden from sending any marketing messages to those who buy from you. This includes discounts or invites to check out new releases in your Amazon store.
Remember, a successful marketing strategy, whether you're selling Toyotas or toilet paper, is built on a personal relationship.
Although we don't want you pestering customers until they evict you from their DMs, you do want (several) lines of open communication available with your target audience. Remember, a successful marketing strategy, whether you're selling Toyotas or toilet paper, is built on a personal relationship.
Before we can build that trusted relationship with our external customers, we need to get them in the door, so to speak — we need to drive traffic to your Amazon listing.
Traffic ('tra-fik) Noun. The volume of customers visiting a business establishment.
Amazon likes traffic. Amazon loves traffic generated by external sources. In fact, within every Amazon product listing page (under the Buy Box) you will see share buttons. These help Amazon buyers bring their friends and family to the Amazon platform from Facebook, Twitter, Pinterest, and email.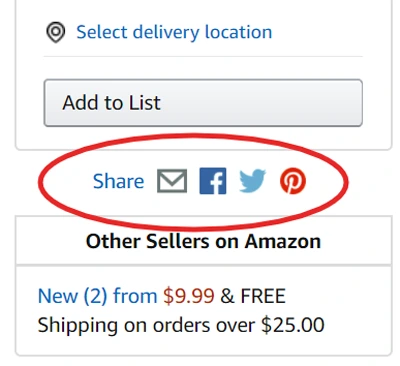 That sounds fun, but how does external traffic help my business?
If you can collect a steady stream of outside traffic to your listing, the Amazon algorithm will show more love to your product listing than one whose traffic originated strictly from within Amazon.
Email Marketing
Let's clear the air. Email is NOT dead.
When utilized properly, email marketing:
Keeps your brand "front of mind" for the casual shopper
Gives you unique opportunities to target customers in future advertisements
Your customer's email address is your golden ticket.
How do you collect them?
Facebook and Google ads are good places to start. But remember, every Amazon seller is thinking this way. If we truly want to compete, we must go one step further:
Marketing funnels via custom landing pages.
Helium 10 Portals: It's Time to Stake Your Claim
Selling on Amazon has become more than just a side hustle. We think Amazon marketing tools should reflect that.
With Portals by Helium 10, you can now direct external traffic from virtually anywhere (email, ads, social media) to dedicated, branded landing pages. These landing pages are conversion-optimized and specifically tailored for sellers on the Amazon platform.
Helium 10 hosts your pages, you focus on your customer experience.
Not everyone is a web designer, and you shouldn't have to be to run a successful Amazon business.
Portals allows you to create custom web pages with a simple, yet intuitive landing page builder. These template-centric pages will act as marketing funnels for your off-Amazon traffic.
Your landing page lives off-Amazon, but ties directly to your Amazon listing.
We live in an age of connectivity; there's no reason your Amazon seller tools should be any different. Portals automatically pulls your title, bullet points, and images from Amazon right into your brand new landing page. Additionally, Portals plays nice with other apps like Facebook and Google Analytics. You shouldn't have to track down different platforms just to track your analytics.
Is your artistic talent limited to stick figures? Not a problem, Portals gives you several templates to choose from.
Are you an experienced digital marketer? You'll want to take advantage of Portals' ability to track via Facebook or Google Analytics pixels. You can create two-step URLs in seconds within Portals to target certain keywords, and even have a rotation of different URLs delivered to people who land on your page.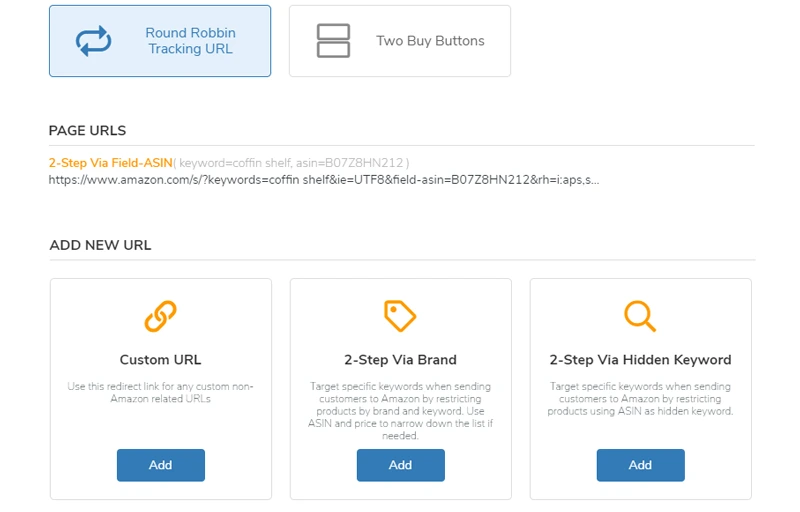 With Portals, you have the toolset to make your Amazon brand independently thrive.
Email opt-in functionality: collect email addresses from customers and remarket to them off-Amazon
A system that encourages repeat purchases
Custom PDF and discount coupon integrations
Don't forget…Amazon's algorithm favors brands that bring in external traffic!
Helium 10 takes pride in being the most trusted source of Amazon news, seller education, and Amazon seller tools available. We understand selling on Amazon does not reach a point when challenges stop appearing. From product conception to post-release marketing, we're here to give you the tools to squeeze everything you can out of the greatest online business opportunity in the world. Interested in trying out these tools for yourself? Sign up for a free Helium 10 account here.
Don't Forget Your Keywords
As we discussed in our guide to Amazon keyword research, keywords are the name of the game on Amazon. Steady customer interaction with your products is the best way to increase your keyword ranking.
When someone searches for a certain keyword and clicks on your product, adds it to their cart, or (best case scenario) makes a purchase, your product listing will gain favor with the Amazon search engine algorithm moving forward.
And that is a good thing—you want to be in Amazon's favor.
This brings us to the next tool you'll want on your marketing belt: the 2-step URL. Portals is great for harnessing sales, the 2-step URL is great for increasing your keyword ranking.
Instead of sending customers directly to your listing, you can use a 2-step URL. This takes them to a search page for your product allowing customers to click on your product from within that search. When they eventually buy your product, the purchase will have come from a keyword search, meaning your keyword ranking will increase.
What About Marketing on the Amazon Platform… is it Still Important?
Absolutely.
While Amazon loves outside traffic, at the end of the day, the majority of your sales will be from within Amazon. If you are just starting to sell on Amazon, we know it feels a bit like jumping into shark-infested waters. How do you capture the most eyes possible for your product listing, especially when you're the new kid on the block?
Get familiar with these three letters: PPC.
PPC advertising, or "pay per click advertising," describes the primary paid advertising platform currently used on Amazon.
If your brand is going to be successful, an effective PPC campaign is not a suggestion, it's a requirement.
Here's how it works…
Set your budget — this is the maximum amount you're willing to spend per day
Set a start and end date for your ad campaign
Choose the product(s) you want to run Amazon advertisements on
Amazon places your product advertisement in advantageous positions within shoppers' search results
You only pay for your ad when a shopper clicks on it (one might say that you… pay per click)
Over the last year especially, Amazon's advertising capabilities have grown more and more robust, particularly if you have Brand Registry. Brand Registry unlocks advanced selling features like enhanced brand content, detailed analytics, and additional brand protection tools.
Are you a newer Amazon seller who doesn't have access to Brand Registry yet? Don't worry, you can still get thousands of impressions on your ads every day, even using the more basic PPC campaign functions that are available to every seller.
PPC Simplified: How It Works
1. Set a Budget
2. Set a Start and End Date
3. Choose Products to Advertise
4. Amazon Strategically Places Your Products
5. Pay When Your Ad is Clicked
Helium 10 ADS: PPC Management Made Easy
We get it. Not everyone is an Amazon whiz. For most sellers, Amazon advertising with PPC appears daunting on the surface. Many feel like they need to spend $1,000 to take a course or hire an Amazon marketing agency to manage it for them. While there are Amazon seller courses out there that work, not everyone needs a PPC P.H.D. to get started.
It's why we developed Helium 10 ADS.
With ADS, you don't have to spend days downloading confusing CSV files and trying to translate complex data. If you are new to the PPC world and your head is spinning, or you're experienced and looking to scale, ADS can be tuned for you.
So what is ADS?
ADS Helium 10's A-Z software solution for PPC management allows you to completely create, manage, and scale your Amazon advertising campaigns.
You start by creating a few campaigns for your new product which should only take a few minutes to complete. These starting campaigns are designed to work together and feed off of each other to jumpstart your results.
You choose the rules that you want ADS to follow, and you set the goals you are trying to reach with your cost of sales.
Once your campaigns are running, you'll be able to easily read the most important information you need about your campaigns. The ADS dashboard gives you an instant (and visual) pulse of your Amazon ad campaign performance.
Tools like ADS are necessary timesavers for beginning and experienced marketers alike, allowing you to take control of your PPC management and take the confusion away from your on-Amazon marketing strategy.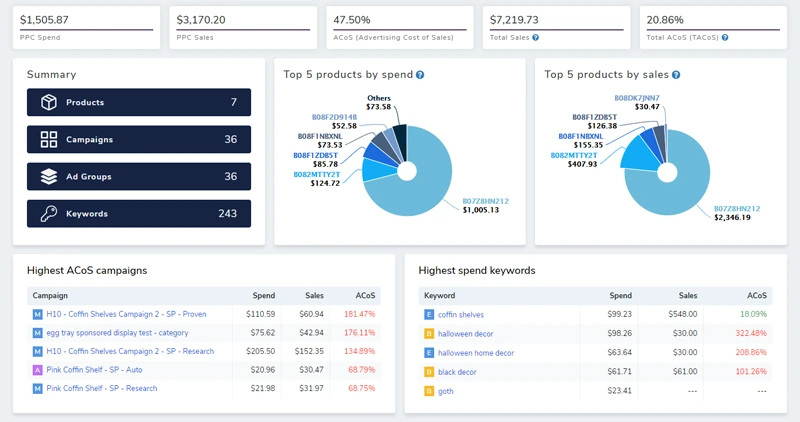 There's one more ADS feature that helps you take your PPC campaigns to the next level: ADS smart suggestions feature.
Normally to take advantage of profitable keywords (and get the most bang for your buck) you would have to download all of your search term reports and try to pick out the profitable keywords. You would then have to go back into your Amazon account to move those keywords around to different campaigns.
But that is not all. To avoid losing money on bad keywords you'd also have to manually find all the keywords you were losing money on so that you could again, find them in your campaigns and take them out.
Campaign optimization is, to say the least, a mission.
ADS solves this by automating the process. Every day it gives you suggestions for things such as:
Keywords to increase or decrease your bid on
Keywords to move to other campaigns
Keywords to completely stop advertising for

The beauty of this feature is that once you have the suggestion, you can accept or ignore it with one click.
You do not have to do anything in your Amazon account. Helium 10's ADS does all of the heavy lifting for you.
Once you have been running with ADS' suggestions for a while and you notice that the A.I. aligns with your campaign goals, you can turn on automation. This will implement suggestions automatically without having to sort through them!
It is the most powerful and practical tool of its kind in the e-commerce industry. ADS is included in our Diamond Plan which gives you the entire suite of Helium 10 tools for much less than most stand-alone PPC management software out there.
To succeed on Amazon you need to have a comprehensive marketing strategy. This strategy should always include a mixture of off-Amazon advertising, as well as on-Amazon advertising. Helium 10's Portals and ADS gives you the data and sensible interface you need to keep you two steps ahead of the competition.
Are you ready to earn your Amazon seller black belt? Freedom Ticket by Helium 10 is the premier Amazon seller course available to online entrepreneurs. Led by eight-figure Amazon seller Kevin King, Freedom Ticket gives sellers a weekly breakdown of how to master each step in the Amazon selling journey. No sugar coating, no sales pitching, no empty "get-rich-quick" promises. This is a data-driven, hands-on approach to digital entrepreneurship with real-world examples. The Freedom Ticket certification course comes free with Helium 10 Platinum, Diamond, and Elite memberships.
Frequently Asked Questions About Amazon Marketing
Why is a landing page important for Amazon sellers?
Landing pages help funnel outside traffic to your listings. Instead of just giving someone a direct link, you can collect their email address, deliver discount coupons, and deliver keyword targeting URLs that help you rank higher on Amazon. Helium 10 Portals gives you the landing page builder you need to get started, without the hassle of building your website.
Why do Amazon sellers need a PPC strategy?
A savvy PPC strategy is the number one way to get your product in front of potential customers on Amazon. Without intelligent PPC management, you will ultimately lose money on your ad campaigns.
With Helium 10 Portals, you can create customized landing pages that act as funnels for your off-Amazon traffic. Don't have landing page designer experience? Don't worry, Portals pulls information from your Amazon listing, then uses custom Helium 10 landing page templates to create a beautiful and functional landing page.
Helium 10 ADS is an A-Z tool for your Amazon PPC campaigns. Create, manage, analyze, and scale your Amazon advertising campaigns without having to go through Amazon Seller Central or download tedious reports.
What are the main benefits of ADS for Amazon sellers?
ADS helps Amazon sellers manage their PPC campaigns in 1/10th the time it would take them if they were managing them manually. It also uses artificial intelligence that can help you reach your target profitability.
What is the best way to advertise on Amazon?
The best way to advertise on Amazon is by using their PPC campaign structure to target keywords and products with advertisements for your listings.
What is Amazon PPC management?
Amazon PPC management is the process by which you create and maintain your paid advertising campaigns. Due to the perceived difficulty of this process, many Amazon sellers outsource this work to an Amazon marketing service. However, this is no longer necessary thanks to ADS by Helium 10.
Should I use Amazon PPC automation software?
Yes, PPC automation is the best way to save time and optimize your ad campaigns for greater profit.
How do you choose the best PPC management software?
The best PPC management software makes complex advertising metrics easy to understand with a simplified user interface and a plethora of automation options.
Why is PPC management important to the success of your Amazon business?
Without PPC, only a fraction of potential customers will ever see your product listing.
What is an Amazon landing page?
An Amazon landing page is a web page that acts as a funnel or intermediary between a PPC campaign and your Amazon listing.
How do I create an Amazon landing page?
You can create an Amazon landing page using templates from the Portals landing page builder.
Can you have a landing page without a website?
You do not need a website to have a landing page if you are using Portals by Helium 10.