Amazon Operations Tool
A simple and effective way to manage your
day-to-day business on Amazon.
Start your FREE account
Introduction to Amazon Operations
You have your product. You have your keywords. You're set. Right?
Well, not quite yet.
Launching with the bare minimum, or worst launching and not maintaining your business is one of the worst mistakes you can make and a common pitfall for sellers. Unfortunately, selling on Amazon is not a set-it-and-forget-it sort of business.
Everyone would love to just sit back and relax and rake in residual income with zero effort with their business on Amazon. It's a dream! But selling on Amazon is just like any other business. It requires hard work to not only scale but to remain ahead of your competition, and with a business on Amazon, you have to be ready for anything to come. And what exactly do you have to "maintain"?
Other sellers (or Amazon itself) making changes to your listings. If you don't keep track of these changes, your sales could plummet.
Amazon owing you hundreds or thousands of dollars in reimbursements you're not aware of. Amazon can lose or damage the products you send to their fulfillment centers, and while they are obligated to (and typically do) reimburse you for lost or damaged products, sometimes they lose track.
If you're launching a product at a heavy discount but don't take steps to protect your inventory, a sneaky buyer could completely clean out your stock (and maybe even resell it at a higher price).
On average, only one out of every 100 purchases on Amazon results in a product review — but you need more reviews than that.
You need to be prepared, a step ahead of your competition, and always ready to take action.
The good news is with the right tools, you can automate nearly all of your business maintenance, saving you time and money, as well as giving you an edge in your market pretty effortlessly.
So, let's go over what Amazon business maintenance looks like in real life and how you can easily monitor and take action to keep your business on the right track.
Product Dimension Changes
Dimension miscalculations or changes happen more often than not, and most Amazon sellers never bother to check.
How can Amazon make a mistake? Does it cost me that much anyway?
Yes, and yes. Amazon makes dimension mistakes, and even a mere inch can cost you hundreds of unwarranted fees.
Not convinced?
Well, we have a perfect example in our recent Project X Case Study.
We noticed in Helium 10's Profitability Calculator that our coffin shelf dimensions were listed as 14" x 9.9" x 7.6", placing it in the "Large Standard Size" dimensional weight category — a change Amazon had made on their own.
That meant Amazon was charging shipping fees for that falls under 8-pound products. In reality, our product's actual weight was 1.6 pounds, and its actual dimensions were 14.5" x 4" x 7.5".
With Profitability Calculator's basic data listed in plain sight, it was easy to see the error. What we don't see is how costly that error was.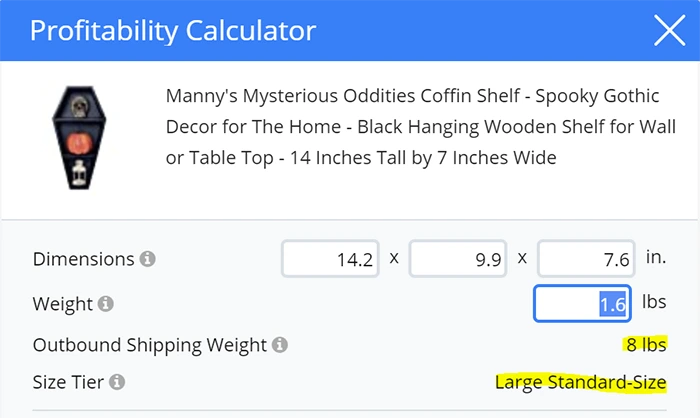 Profitability Calculator indicated Amazon was charging $7.32 in fulfillment fees with the wrong dimensions. With the correct dimensions, the fee should have only been $5.80. Now, a $1.52 difference might not seem significant. Still, when adding up the 2000 units sold since Amazon had made the change to the larger shipping category, we calculated almost $3000 in lost money.
Get Alerted of Your Product Changes
The good news?
These sudden changes don't have to be a surprise. So, how did we even discover Amazon had changed our dimensions? In our product case, we knew our dimensions had been changed through Helium 10's Alerts tool.
Alerts notify you of any changes to your listings, so you'll know right away.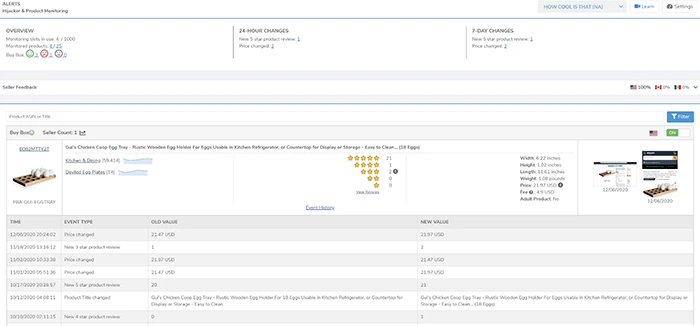 Get Your Reimbursements Hassle-Free
So, we know mistakes can happen, either by Amazon or yourself. Mistakes can be costly.
However, when Amazon makes a mistake like our Project X example above, you can most definitely ask for your money back.
Where do you start?
The traditional process includes logging all of the orders you were overcharged for, creating a formatted document, and sending it to Amazon. A process that can take hours.
Or you can use Helium 10's Refund Genie tool. Refund Genie effortlessly finds missed reimbursements and compiles them into a report that you submit to Amazon. It cuts your hours-long process to just a few minutes.
Use this tool periodically to check for owed reimbursements and save money and time in a cinch.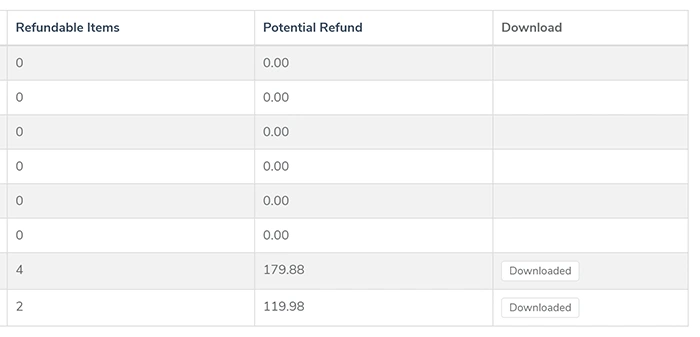 The Alerts Tool Notifies You of Other Changes, Too
You already know Alerts can notify you of changes Amazon can make to your account like dimensions, but Alerts also notifies you of other common changes that other Amazon sellers (think hijackers) do, like changes to your images, title, or bullet points.
Without Alerts, you'd have to consistently and thoroughly check all your listing to notice the changes. That can be extremely time-consuming and unreliable if you happen to miss a small change. And this can lead to lost sales, overcharging, and by chance, you lie victim to a malicious hijacker can even get your account temporarily suspended.
"The bottom line is when an unauthorized change takes place in your account, you need to take action quickly."
Alerts will notify you if a hijacker steals your buy box. If you receive negative seller feedback or negative product reviews, your product is accidentally classified as an adult product and several other potentially unauthorized changes.
As soon as you launch a new product and your listing is live on Amazon, make sure to activate Alerts to be aware of any unwanted changes.
Another Security Wall Against Hijackers
One super popular launch strategy is distributing heavily discounted coupons to drive sales. This allows Amazon sellers to prove to Amazon that their new product is popular from the start, especially in connection to the product's main keywords. Launch discounts typically range from 25-75%.
However, there's a catch to this highly popular and effective strategy.
If you fail to set a "Max Order Quantity" when selling at a steep discount, a single customer can buy out your entire inventory for your product with just a coupon code.
Hijackers specifically do this to wipe out your inventory only to return all the products a few days later, potentially resulting in a loss of inventory and money. Bad news.
That's where another one of Helium 10's tools comes in.
Inventory Protector helps prevent hijackers from wiping out your discounted inventory by allowing you to set quantity limits on your product and prevent coupon abuse.

Easily Rack Up Reviews
Reviews sway Amazon buyers towards or away from your listing through social proof and overall trust. Earning reviews is especially critical for newly-launched products. Without actively asking for reviews, your review rate will be about 1% — that's one review per 100 purchases.
Contrary to popular belief, you can send a message to customers to ask for an honest review is Amazon ToS-compliant if done correctly. It's also a great way to boost your review count.
So, how do you do it?
You can spend hours researching the latest ToS policy update, looking for a compliant template, or searching for what words you can't use.
Or you can use Helium 10's Follow-Up tool. Follow-Up is a fully-automated messaging system complete with email templates. You can create rules for messaging your customer, timed messages, to send a Follow-Up email, improve your email marketing, and more. Most importantly, Helium 10's Follow-Up tool eliminates the need and all the extra time and research it will take to send these messages manually.
While there's no known "magic number" of reviews per product needed to guarantee customer trust, Follow-Up's automation capabilities will increase the number of customer reviews you earn.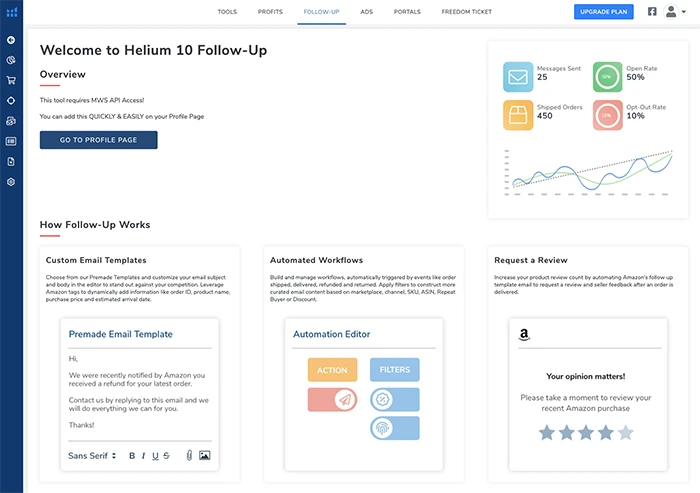 Helium 10's Seller Assistant Chrome Extension is another excellent resource for requesting reviews. Where Follow-Up allows you to schedule messages and access templates, Seller Assistant lets you quickly send review requests in bulk directly from your Amazon Seller Account.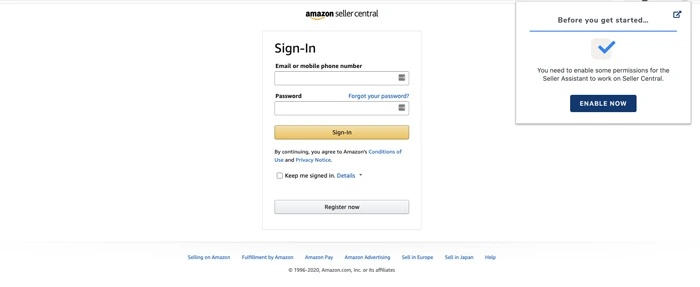 Get Business Notification from Anywhere
It's great to easily automate tasks, get notifications of any critical updates, and more, but what if you're constantly on the go and not always in front of your computer screen?
Helium 10 has a mobile app for that!
The Helium 10 Mobile App allows you to remain updated on your daily sales, inventory levels, and other pertinent information from the convenience of your phone. Available on both Android and iOS, the app makes account maintenance easy even when away from your computer.
Most Importantly, Never Set & Forget
Remember, your selling journey isn't over after you launch a product. Managing your account to stay on top of changes is key to your Amazon business success.
Helium 10's Operations and Maintenance tools make taking care of all your Amazon operations effortless. We're here to help you maximize your business potential with not just tools to protect your business but everything you need, from marketing automation to listing optimization.
Frequently Asked Questions About Amazon Business Maintenance
How do hijackers and product monitoring alerts work?
If unauthorized changes are made to your listing by Amazon or competitors, or if a competitor takes the Buy Box, Alerts will send you a text message, email, or notification to your mobile app so that you can take immediate action.
How does Helium 10's Inventory Protector work?
Inventory Protector connects with your Seller Central account to set a max order quantity to limit how many products a customer can buy at once, helping protect your account from coupon abuse.
Why is email automation important for Amazon sellers?
Email automation is essential for reminding your customers to leave you a review. The more quickly you collect reviews, the faster customers will come to trust your product.
Why do Amazon sellers need hijacker alerts?
If a competing seller hijacks your listing and takes the buy box, they essentially steal the sales you would have made. Alerts notify you of this so you can take immediate action.
What are the main features of Helium 10's Follow-Up tool?
Follow-Up allows you to set up email templates to send on an automated schedule when you want and to whom you wish to based on the parameters you set.
Why is mobile functionality important for Amazon sellers?
Mobile functionality is essential to sellers so that you can keep abreast of certain important metrics such as sales and inventory even while not at your computer.
What are the main features of Helium 10's Mobile App for Amazon sellers?
The Helium 10 Mobile App shows your sales of any time period you choose, alongside other critical information like your inventory levels, sales history, and alerts history.
How does Refund Genie work?
Refund Genie analyzes your Amazon account's history of damaged and lost inventory and compares it to what Amazon has already reimbursed you. If Amazon owes you more money, Refund Genie provides a report you submit to Amazon to request that money.
How do I get reimbursed from Amazon?
Get your reimbursement from Amazon by submitting the Refund Genie's report to Amazon's Seller Support.
Why does Amazon owe money to most FBA sellers?
Amazon loses or damages millions of products yearly. While Amazon monitors this data, they still miss some of this information, resulting in unclaimed reimbursements.
What is Helium 10's Seller Assistant?
Seller Assistant is a Chrome extension that allows you to use the Seller Central buttons that request reviews from buyers en masse.
How do you install and use the Helium 10 mobile app?
You can download the mobile app from the app stores on your iOS or Android device. Once installed, sign in to your Helium 10 account using the same credentials you use for the tool's desktop version.
How do I get more Amazon product reviews using email automation?
You can earn more Amazon reviews simply by setting up a single post-purchase email to send your customers automatically after product delivery.
How do you know if your listing is being hijacked?
Helium 10's Alerts tool will send you an email or text notification if another seller starts selling on your listing or steals the buy box.
What are the effects of hijackers on your Amazon private label listing?
Hijackers on your Amazon listing can steal your buy box, diverting sales from you.