Amazon Keyword Research Tool
Choose the right keywords to optimize your
product listing with our tools.
Start your FREE account
We have some news to break to you…
You do not sell products on Amazon.
Yes, we know this sounds a little jarring, but don't worry-we'll clear things up for you in a bit.
You see, Amazon product research is critical to your success as an online entrepreneur. However, too often in the Amazon Marketplace sellers get so excited over their new product idea, they end up neglecting their Amazon keyword search strategy entirely.
And neglecting your keyword strategy is just as bad (if not worse) as choosing a misguided product idea to begin with.
Keyword strategies are that important, and we'll tell you why.
A product is only as successful as it is easy to find.
To understand why it's so important to choose relevant keywords, we must first embark on a brief journey that is vital for every Amazon FBA seller to understand.
The Amazon buyer journey. You'll see a brief overview below.
As you can see, when we trace a sale back to the start, we discover something important (and often surprising to newer sellers).
You are not selling products, you are selling keywords.
The Amazon Buyer Journey
Problem
"I need (or want) something."
Customer has a problem that needs solving.
Desire
"What would be the perfect thing to fix this problem?"
Customer forms a picture of the product they want in their head.
Search
"Where's my laptop?"
Customer translates that mental image into a keyword search phrase.
Match
"Hmm, that looks pretty good."
Customer matches their mental image with the closest product in their search results.
Purchase
"You had me at 'two-day shipping."
Customer buys the product.
What Are Customers Really Looking For?
Now, what does this keyword search look like in real life? So, say you've done your Amazon product research and you decided to sell an egg tray.
Let's step inside the mind of your potential customer…
You are hosting a house party this weekend.
You're really going hard on the rustic farmhouse theme throughout your home, with white pitchers, black-and-white checkered rugs, strawgrass baskets everywhere, and restored barn yard doors.
Your look is almost complete, but you need something to really make your kitchen pop. Hmmm. "What would give my kitchen a farm look," you think.
An egg display!
A need is born.
So what is your hypothetical customer looking for?
Something that:
Functionally display eggs on a table
Fits the rustic farmhouse theme of their home
They imagine an egg tray that matches their other wood decor. Since they eat a lot of eggs, they'd prefer it holds around 18 eggs. And, they reason, it should cost between 20 and 30 dollars.
With all these descriptors floating around their head, they form a mental image of what this product would look like, the solution to their problem.
But, there's a problem…
Unfortunately, there is no technology that exists that can transfer a mental image to an Amazon search…at least not that we know of yet.
So a customer's mental image morphs into what we call keywords.
Once they're on Amazon, they begin their product search with words that describe this mental image, for example "rustic wooden egg tray."
The product that gets the sale, is the product that best fits their mental image.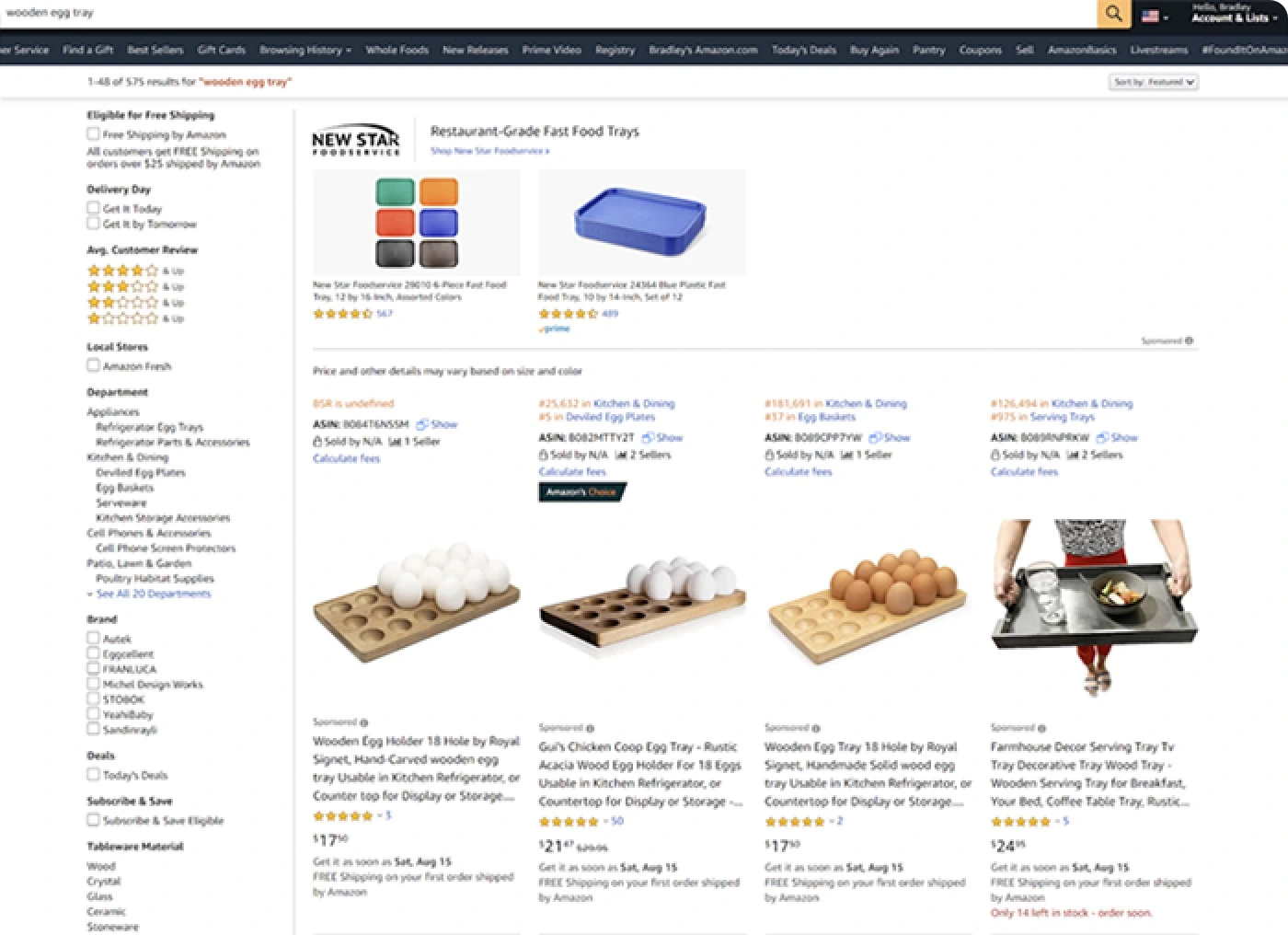 This is the journey most buyers take when they decide to buy a product on Amazon.
Hopefully now you understand why finding a million dollar product takes more than just a million dollar product idea. If an Amazon product does not have relevant keywords in its listing, then it will never even show up in the search results to begin with.
You may have the most state-of-the-art fishing rod in the world, but if you don't choose the right bait, don't expect a catch.
Amazon Keyword Research: Where's the Best Place to Start?
Ok, so now that you understand how a customer searches for a product, but how do you find the keywords they will use in their search?
To start off, it's important to understand that for most listings, the majority of sales come from the top 5 to 15 keywords. And the easiest way to find these keywords is to perform an audit of your top competitors.
Chances are, there are three to four existing products who are dominating the market share within your niche.
You need to start your keyword search by finding your keyword's dominating products.
To find these dominating products, you need to do two things.
First decide what related keyword you think is the main keyword for your product. We'll call this a "seed keyword".
Second, run a search with your seed keyword on Amazon, and then run Xray (a keyword tool part of the Helium 10 Chrome Extension ). This keyword tool shows you the estimated sales of the top products indexed for that seed keyword.
The top 3 to 4 on the Xray list are your dominating products, and most likely your top competitors.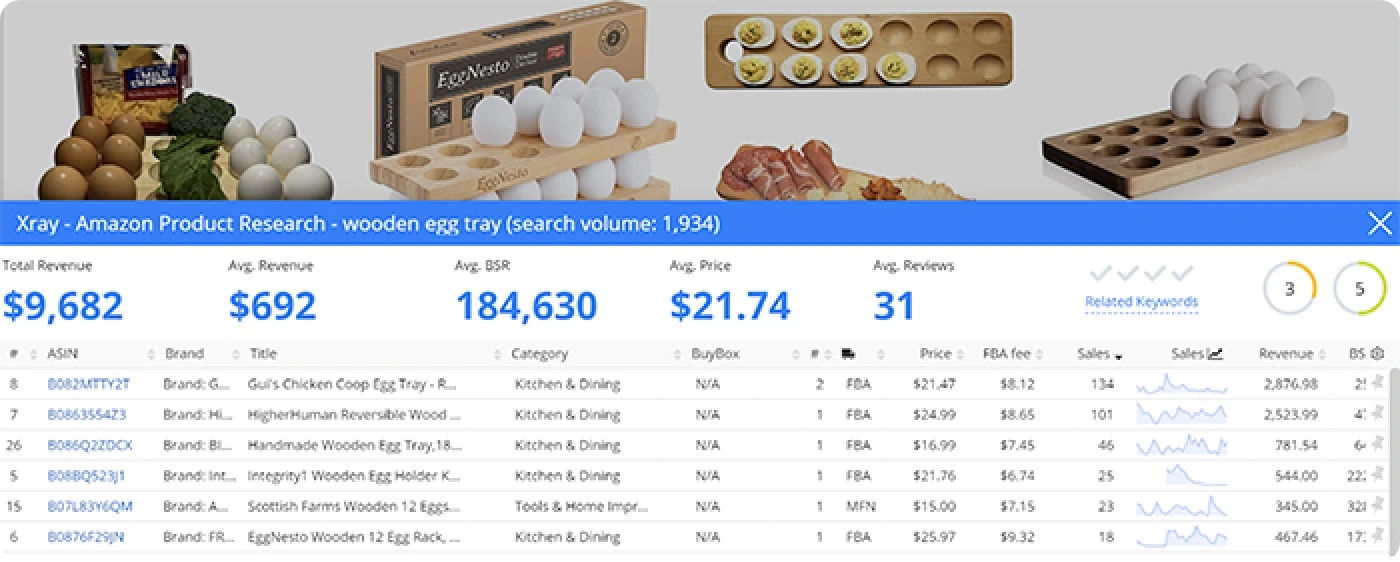 Did you know Helium 10's Chrome extension is free to download and use? Download it here.
Now we want to unlock the keywords of these dominating products. To do this, copy the product identifier numbers (aka ASINs) of those top three to four products from Xray, and paste them into Helium 10's other Amazon keyword tool, Cerebro.

Within seconds, Cerebro generates a keyword list that contains activity for these top products. This list will contain thousands of keywords, but remember we are only interested in the top five to 15 keywords.
How to Uncover Top Competitors' Keywords in Seconds
1. Pick a Seed Keyword
Decide what keyword you think is the main keyword for your product. We'll call this your "seed keyword".
2. Find Dominating Products
Run X-ray (a keyword tool part of the Helium 10 Chrome Extension) to see the estimated sales of the top products indexed for that seed keyword. Pay attention to the top three or four only. These are the dominating products.
3. Generate Your Keyword List
Copy the product identifier numbers (aka ASINs) of those top three to four products and paste them into Cerebro, Helium 10's Amazon keyword research tool. A keyword list will be generated in seconds!
To pinpoint our search even further, we need to filter this list to show us those top five to 15 keywords we're on the search for.
And what makes a keyword a top keyword? A keyword that is ranking for page one.
Specifically, you only want to see the keywords that are allowing at least three out of these four dominating products to rank on page one for. These are the creme of the crop keywords—our golden ticket.
So on Cerebro, you'll do just that using the [name of filter] filter.
And done!

Fun Fact: Every Helium 10 Amazon keyword tool displays an estimated monthly search volume (approximately how many times an Amazon keyword was searched in the previous 30 days).
We now have a list of the keywords that are bringing the most sales to existing competitors with similar products.
In 60 seconds using Helium 10's X-Ray and Cerebro, you now know your competitor's five best selling products and top five keywords! Imagine trying to do this in a physical store location, or even manually on Amazon—nearly impossible.
Hurray for Helium 10's keyword research tools!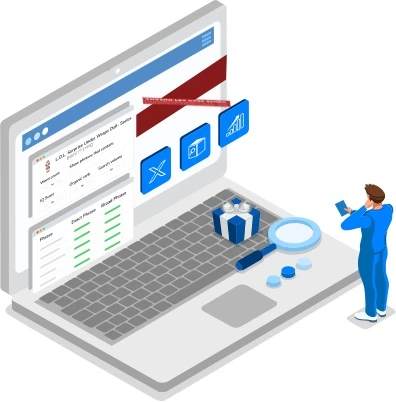 Want to see the story behind these screenshots? Find them in our groundbreaking Amazon case study, Project X. Helium 10's Bradley Sutton and private label maestro Tim Jordan tackle what it takes to build a successful Amazon product, from start to finish.
How to Find Even More Keywords for Your Listing: Advanced Filters
Despite most sales coming from the top five to 15 keywords, that doesn't mean your Amazon listing should only have five to 15 keywords.
There are millions of customers on Amazon and you want your product to be searchable for the widest range of keywords possible. So what do you do?
It is easier to rank for several low-competition keywords than chasing single, "white whale" keywords that every other Amazon seller is after.
All you have to do is play with the filters to widen your search and reveal additional keywords, within that same Cerebro search that we just did above.
Use the "Advanced Rank Filter" to uncover less popular keywords. These are keywords that perhaps a couple of your competitors are optimized for, but most aren't targeting at all.
Why are these important?
Alone, these low-competition keywords may seem insignificant, but together they will move mountains for you. If your competitors are not using Helium 10's keyword tool, they do not have the ability to find these low-competition keywords, let alone make use of them.
But, your search isn't over. We have more keywords to search for.
Is It "Phrased" Properly?
How can you find even more relevant keywords with this Amazon keyword tool? Focus on searching for long-tail versions of keywords.
A short-tail keyword typically only contains one or two words, such as "egg tray."
A long-tail keyword (or keyword phrase) typically contains three to five words, and more accurately reflects specific phrases the average customer may be searching for. For example, "egg tray for countertops," or "wooden egg tray for refrigerator."
Short-Tail v.s. Long-Tail Keywords
Short-Tail Keyword
"egg tray"
Long-Tail Keyword
"wooden egg tray for countertops"
When you want to know how to find all the different combinations of a keyword (aka, phrases) that exist on Amazon, Magnet, Helium 10's other keyword tool, can help with that.
Quick… how many phrases can you think of that have "egg" and "tray" in them?
Chances are, you didn't think of the 355 phrases that Helium 10's other keyword tool found!
To find all these words, start by running a search for any primary keyword and filtering for "Smart Complete". Magnet shows you all the variations of that seed keyword that have Amazon search activity.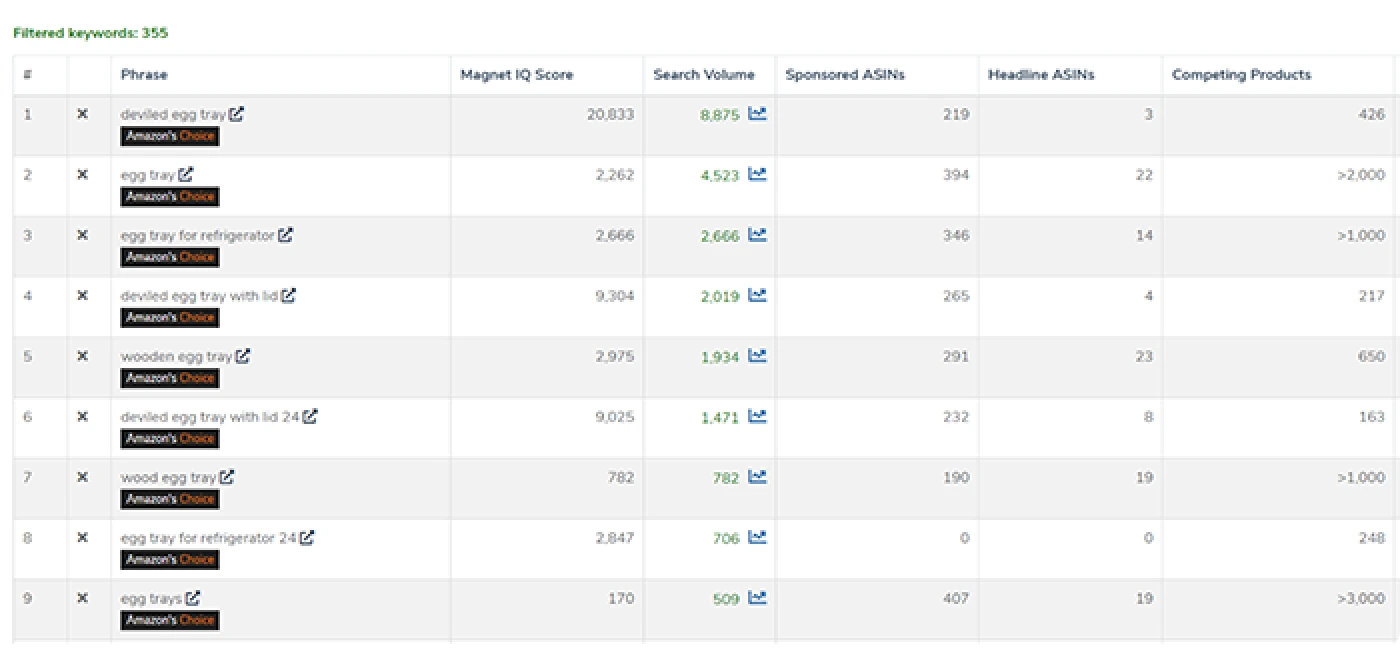 More Keywords? Si Porfavor!
Aside from keyword phrases, are there any other keywords you can add to your listings?
The answer is Si!
There are millions of people in the United States whose first language is Spanish, and to no surprise, use Spanish phrases in many of their searches.
The good news is Magnet also shows you non-English keywords that are being searched for on Amazon! These keywords are mostly ignored by most sellers, which is good news for you.
By including them in the backend of your product listing, you instantly get an edge on your competition.

Don't Forget the Typos
We've all done it. Typed in a word too quickly, forget a word's spelling, or just clicked an incorrect letter.
Searching for a product on Amazon with a misspelled word is pretty common, yet so many sellers don't take advantage of these typos.
The Helium 10 keyword tool, Mispellinator will show you the most frequent ways that people misspell keywords. Include these misspelled keywords in the backend of your Amazon listing and capture search traffic that is all-too-often left by the wayside.
Add these Keywords to Your Listings, Too:
Keyword Phrases
"travel neck pillow"
Common Misspellings
"nek pillow"
Non-English Keywords
"almohada de cuello"
These keyword research strategies can be used outside the U.S., too! Use Helium 10's keyword tools for finding keywords in Amazon Canada, Germany, France, Italy, Spain, and the UK.
So, let's recap on what we touched on.
Keywords are the name of the game. If you do not have the keywords that match the image in the head of your target customers, then you're at a loss before you have even begun. These customers will never see your product in Amazon's search results, let alone buy it, no matter how amazing your product might be.
Begin your search with the top five to 15 keywords of the top three to four dominating products. These are the top of the top keywords that should definitely be included in your product listing.
Don't limit yourself to just top keywords. Add in low-competition keywords, too. Plus, look for long-tail keywords (or phrases), common misspellings, and even non-english keywords.
We know keyword research seems like a lot but if you're using keyword research tools like Helium 10's you'll breeze through your keyword research once you know what to look for.
Using Helium 10's Amazon keyword research tools, you unlock the ability to uncover opportunities hidden to your competition. Interested in testing them out for yourself? Sign up for a free Helium 10 account here.
With these keyword research strategies, you've taken the first step towards capturing the eyes (and carts) of your customers.
Want to learn more keyword research strategies?
Freedom Ticket is the most comprehensive, no-nonsense Amazon seller course available to entrepreneurs. Join e-commerce expert and renowned Amazon educator Kevin King in a candid and data-driven class designed to teach you how to win big in every arena on the Amazon platform, including:
Amazon Keyword Research FAQs
What is Amazon keyword research and why is it so important?
Amazon keyword research allows you to identify the phrases a customer searches on Amazon while looking for your product.
Including product-relevant keywords in your listing helps you show up on page one of Amazon search results.
70%
of Amazon customers never click past the first page of search results.
How do you do Amazon keyword research?
First, identify your top competitors in the niche. Find the top 5-15 keywords that customers are currently using to find those products, then add them to your Amazon listing and run paid ads on them.
Next, expand your search to find long-tail, non-English, and misspelled variations of your main keywords.
How to improve sales on amazon with an Amazon keyword tool?
Generally speaking, keyword relevancy = increased sales. A good Amazon keyword tool allows you to target and claim the phrases your potential customer is typing into the search bar. In short, Amazon keyword research makes your product visible.
Do Helium 10's keyword tools support different amazon markets?
Helium 10 keyword research tools work in Amazon USA, Germany, France, UK, India, Italy, and Spain.
How does Amazon keyword research differ from keyword research for google PPC and traditional search engine optimization?
The theories behind keyword research on-Amazon vs. off-Amazon are quite similar. However, the things that are trending off of amazon are not always the things that are trending on Amazon. You must conduct Amazon-specific keyword research to succeed on the platform.
How do you find long tail keywords on Amazon?
Enter the short-tail keyword into Helium 10 Magnet, then filter the results for "Smart Complete" to reveal long-tail keyword variations.
How can you see the number of searches for Amazon keywords?
Every Helium 10 Amazon keyword research tool displays the estimated monthly search volume.
How do you find trending keywords?
You can find the keywords that are trending the most for any given product by running a reverse ASIN search using Helium 10 Cerebro. You will see all of the keywords that a product is ranking for, both in organic search results and sponsored results.
How do you pick the best Amazon keywords for your listing?
You choose the best keywords for your Amazon listing by filtering down to the highest searched terms that your competitors are all ranking as a group.
How do you begin your Amazon keyword research for your product in the first place?
The first step of Amazon keyword research is identifying the top selling competitors in your niche. Then find the top 5-15 relevant keywords that are bringing them the most sales.
What are the advantages of using the right keywords?
If you use the right keywords, you will always have a chance to show up in Amazon's search results.
What are the benefits of Magnet's advanced filters?
Magnet's advanced filters allow you to find long-tail keywords, find key phrase variations containing certain seed keywords, sort by number of competitors, and more.
What are the benefits of discovering a competitor's keyword ranking to inform your strategy?
Amazon does not tell you which profitable keywords bring the most sales to a given product. However, by finding where products are ranking well, you can deduce the strength of their performance on that keyword.
How does Misspellinator work?
Misspellinator finds the most commonly misspelled forms of a given keyword.
What are the benefits of using misspelled keywords?
Using misspelled keywords allows you to show up in search results for the many costumes who make typos or use non-traditional spellings. Most of your competitors do not know these keywords are useful, let alone how to mine the data.
Does Helium 10 Cerebro actually look at backend keywords?
Cerebro shows the keywords a product is ranking for regardless of where that keyword is in the listing: front OR backend.
How does Helium10 Cerebro track sponsored product ranking for a search term?
Helium 10 not only shows you where the product is showing up in the sponsored results, but it also shows you where that product was last detected running a sponsored ad.
What is a reverse ASIN search used for when selling on amazon?
A reverse ASIN search allows you to enter an Amazon ASIN and receive all the keywords associated with that ASIN.
What are the best tools for Amazon keyword research?
The best tools for Amazon keyword research are Cerebro and Magnet. It cuts the average Amazon seller research time significantly.