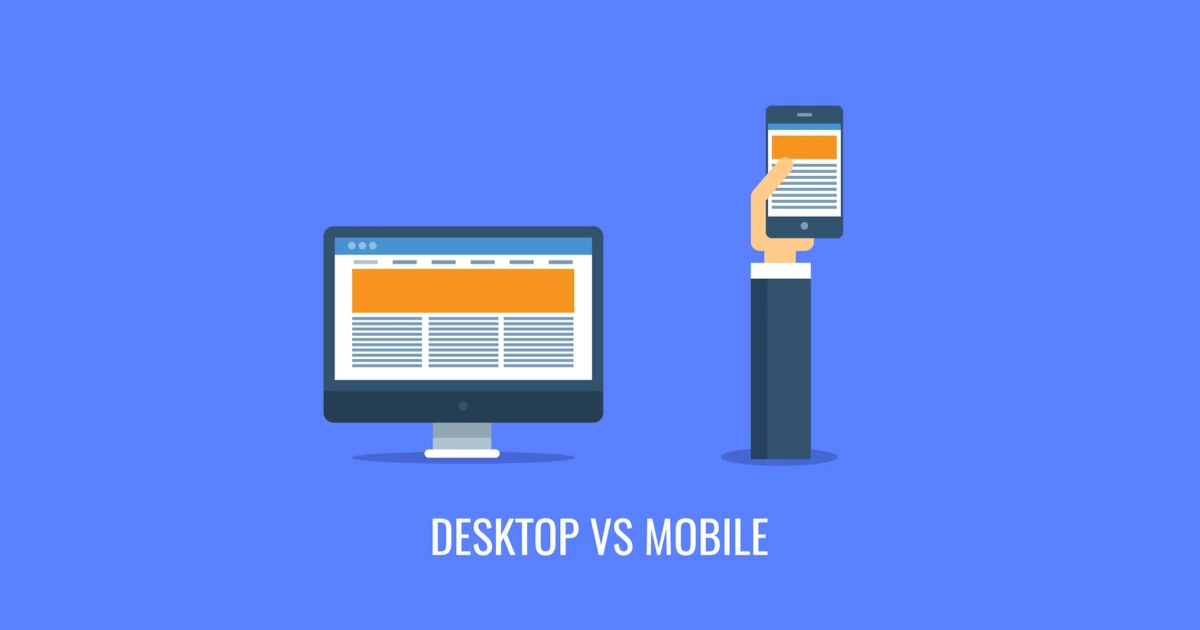 Posted on: March 30, 2022, By: Bradley Sutton
How To Check Your Amazon Mobile Vs. Desktop Page Views
Ever been curious how your page views stack up between mobile devices and in-browser? This walkthrough tells you what you need to know!
How much of your traffic comes from the Amazon Mobile App as opposed to desktop browsers? If you're like me, you'll be surprised by the answer. As a bonus, this may very well uncover components of your account you've been neglecting, just as it did for me!
First of all, you might be asking yourself, "How can I even see this information?"
Before March 29, 2022, it might have been difficult to do that, however, yesterday Amazon released new visibility into their Business Reports. Here is how to find this new data. 
Accessing Business Reports
You can either visit this link directly or, from your Seller Central dashboard, go to "Reports" and then select "Business Reports." 

Next, from the left side, select "Detail Sales Page and Traffic."

Lastly, from the right side, you will have to first click the "Show/Hide Columns" bar and then select "Sessions Mobile App," and "Sessions Browser."  You can also view by page views for each as well.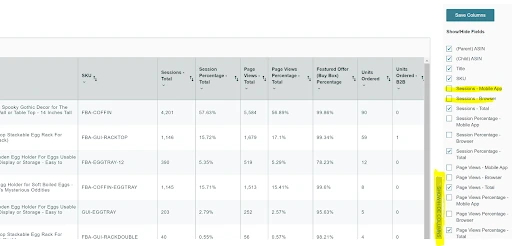 Lastly, click "Save Columns" after selecting those new fields, and BOOM goes the dynamite! Feast your eyes on this new data point.
Take a look at some of the products last month in Project X.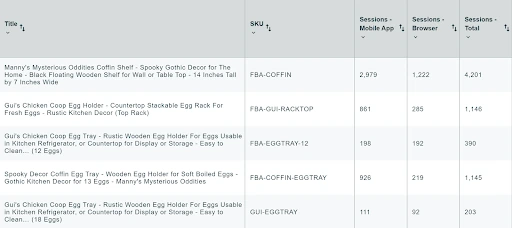 The coffin shelf had over 2X the number of sessions on the mobile app as opposed to in-browser. This was more than I would have expected. 
What Did I Find?
The new coffin egg tray product actually has almost 5X the number of sessions using the mobile app!
However, take a look at the 12-egg tray. For some strange reason, it is almost identical between mobile app and desktop. 
This perplexed me, so I tried to find the product in-mobile and in-desktop, and I COULD NOT FIND IT IN SEARCH!
I ran the product in Cerebro to see if I was ranking anywhere. This is what I saw.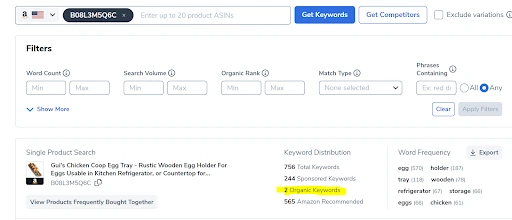 What in the world!!!!!!
Only ranked for two organic keywords? I had a sinking feeling in my gut that I knew what happened. So, my next step was to go to Helium 10 Alerts to see if my suspicion was right:  That this product had been de-indexed due to someone marking it as an adult product. 

Sure enough, that is exactly what happened.  But me, with my recent travels to the Prosper show and to the Philippines, completely ignored the email that Helium 10 Alerts sent me, telling me that this happened! 
As the esteemed intellectual Homer Simpson once said, "D'OH!"
Stay On Top Of Your Notifications!
I do not want to even think of why someone would mark this product as an adult product. But, regardless, that is why I was only showing in sponsored ads, and seemingly evenly across mobile and browser formats.

The moral of the story is, don't be like me and stop checking your keyword tracker ranks and your alerts. Had I been checking these tools, I would have noticed immediately that this had happened. 
However, it's kind of cool that the reason I did finally find it was thanks to this new metric on Amazon. 
Hopefully, you are not as neglectful as me, and thus would not have this use case for this metric.
Knowing how many more mobile app views your listing receives may inspire you to optimize your listing more for the mobile browser experience. In our recent Listing Optimization Workshop, Lailama and I talked about optimizing things like your title for mobile browsers, keeping in mind how your images look, as well as where Amazon truncates your title. 
Regardless of your use case, make sure to check out this new feature from Amazon and let us know how you use the information!
Last Updated on March 30, 2022, 4:05 pm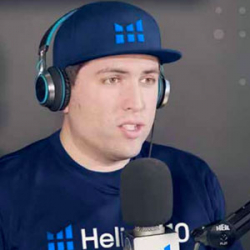 Latest posts by Bradley Sutton
(see all)